Zen Harmony® R 200 – Crafted to save lives with compassion
Zen Ventilator is designed to facilitate ease of breathing for the patients with respiratory distress. The micro-flow differential pressure sensors and related DSP software ensures, patient breath response based ventilator operations.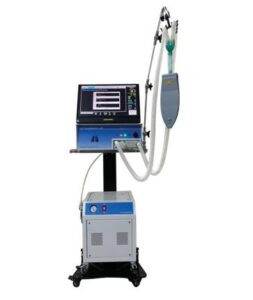 Zen's SMART design ensures Safety and Simplicity to minimize asynchrony of ventilator and the patient.
The whole system is designed to cater to the needs of remote locations which are not equipped with critical care healthcare infrastructure. This system can be set up and operated in a non-hospital environment and will enable the experts to remotely guide and manage the parameters. In rural set ups where Air and Oxygen lines are not available, this option will help in ventilating the patients with compressor and oxygen cylinder provision, under an able guidance of a respiratory physician.
Features:
Large screen displays with tabbed menu outlay, provides basic and detail information as per the needs of the clinicians.
Touch Screen facilitates ease of operation
Intensivist can view the information remotely using an App based interface
Audio visual indication for alarms
Facility available for system self-test and calibration before connecting to a patient
Facility to connect an external ultrasonic nebulizer is provided
Provision for Humidifier is available
Modes Supported
Invasive and Non-Invasive:
Invasive: VC – CMV, VC – ACMV, VC – SIMV, PC – CMV, PC – ACMV, PC – SIMV, PRVC
Non-Invasive:  PSV, CPAP
Calculated Values (Output):
Mean Airway Pressure (MPAW), Rapid Shallow Breathing Index (RSBI),  Flow Rate, Static Compliance (C stat), Inspiratory Time (Ti), Plateau Pressure (P plat), Airway Resistance , Leakage percentage
Waveforms:
Pressure vs Time, Flow vs Time, Volume vs Time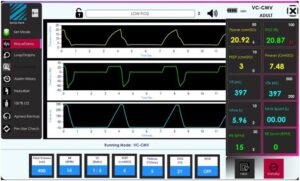 Loops:
Volume – Pressure, Flow Rate – Volume, Flow rate – Pressure
Patient Alarms:
Low/High FiO2, Low/High Minute Volume, Low Inspiratory Pressure, High Pressure, Low PEEP, High PEEP, Continuous High Pressure/Occlusion, High Respiratory Rate, Breathing Circuit Disconnect, Low Tidal Volume.
Equipment Alarms:
Gas-Supply Failure, Power Failure, Power Sensor Failure, Read/Write Error, Ventilator Temperature Error, System Failure, Vent Inoperative, Low Battery.
Triggers:
Triggers for pressure and Flow with adjustable sensitivity are shown.
Brochure